About Natural Omega 3
Satvam's Omega 3 supplement is developed and manufactured with a unique technology called "Synergistic Optimized Blend Technology".
Satvam's Omega 3 supplement is a plant-based formulation that contains key ingredients like marine algae and flaxseed. These ingredients aid in maintain healthy heart by reducing triglycerides levels in your blood, and which prevents irregular heartbeat and plaque.
Packed with a blend of all-natural ingredients.
Nourish Your Body with Omega-3.
Natural Omega 3

Improves strength of bone and joint
Supports healthy heart

Reduces anxiety and Fatigue
How to Consume:
10 ml Dosage, 3 times in Day.
Offers available
FLAT 40% OFF on Your Purchase
Discounted Price:
₹. 765.00
Copy Offer Code
Sale price
MRP
₹. 1,275.00
MRP (incl of all taxes)
Unit price
per
Free Shipping on all orders
Support & ordering open 5 days a week

Secure Payment
CUSTOMER SUPPORT
SAFE CHECKOUT
What's in it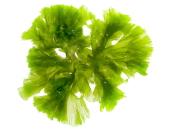 Marine Algae
Lowers heart disease risk by improving good cholesterol levels(HDL).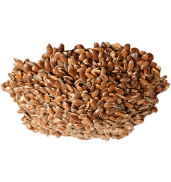 Flax seed
Strengthens the bones and joints. reduces stiffness, and improves joint mobility & flexibility.
Benefits
Improves sleep and mental health
Improves HDL level as good cholesterol
Supports the normal formation of connective tissue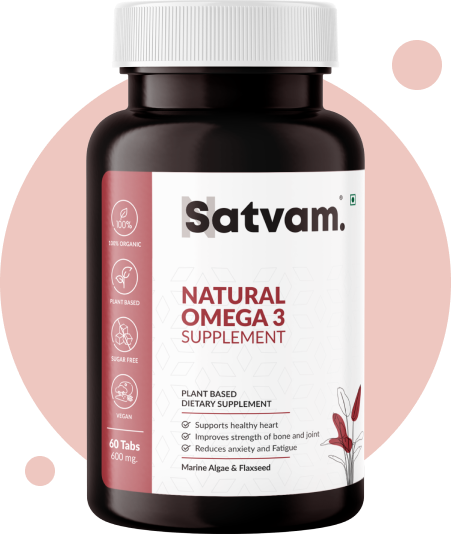 Feed your body with the purest & most effective natural supplements
100% Organic
Plant Based
Sugar-free
Vegan
Chemical Free
How to Consume?
1 tablet twice a day,

30 minutes after meals or

as directed by the physician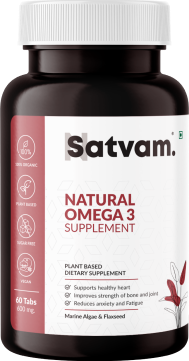 Certifications
Additional Information
Country of Origin

India

Pack Size

60 Tablets

Serving Size

1 tab twice a day 30 mins after meals/as advised

Form

Tablet

FSSAI Lic. No.

10718015000161
Disclaimer
Keep out of reach of children.

Pregnant, lactating mothers should consult a physician before consumption

Do not use if the seal is damaged or missing.

Store below 25°C in a cool, dry place.

Disclaimer - Result may vary from person to person.
Happy with this product
As a vegan, I'm always looking for ways to get the nutrients I need. I'm so happy to have found Satvam's Natural Omega 3 supplement! It's plant-based, so it's perfect for me. I've been taking it for a few months now, and experiencing the difference. I am happy and satisfied. Recommending this product to everyone in the vegan community.
Its good product very impresive
Omega 3 suplimet of Satvam is best for helth...
i am having this medicine in last 3 months and result is fabulous...
very impresive..